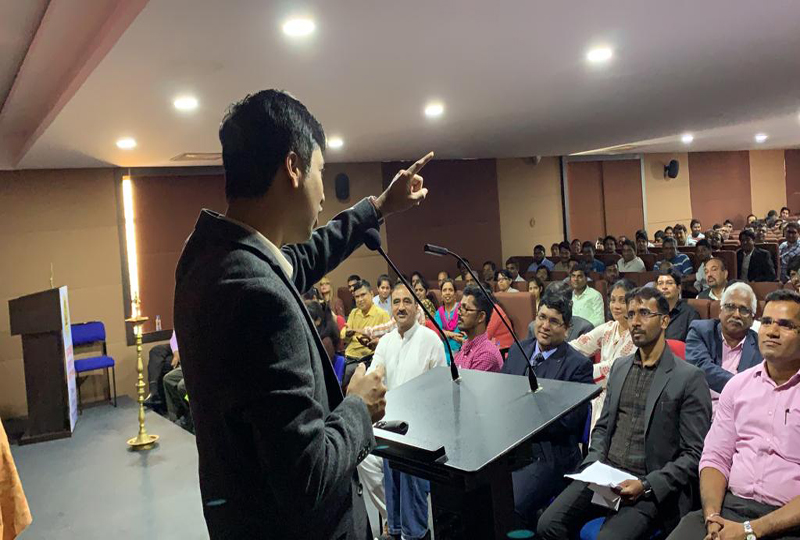 Be A Certified International Trainer & Coach
Welcome to the introductory seminar on India's first Integrated Program for Training and Coaching. A 2 months structured program for aspiring Trainers and Coaches. if you want to join the Training industry both Training and Coaching are in equal demand and undoubtedly there are better opportunities if you are certified in both Training and Coaching.
During this 2 months program, you will be exposed to Facilitation skills for mastering the stage, Coaching skills, Global content development models, Accelerated Learning, Real-world challenges as a Trainer and a Coach.
The course is designed by India's Nextgen Leader – Kaushik Mahapatra who is India's one of the most successful Corporate trainers and International coaches. Kaushik Mahapatra is an IIM Alumni and has 23 plus years of Corporate and Training experience in India, UK, Singapore, Vietnam, Dubai, Spain, Philippines, Australia. He is an Ex – GE, and HP and has worked with close to 140,000 People so far in their Training and coaching Journey.
Main Program Duration: 2 months ( 150 hours, Mostly weekend classes).
Batch size: 30
Training opportunities after the Program: 20% of the Participants would get at least 2 paid assignments in
Corporate companies or organizations. One Participant would get a chance to train in Dubai or Singapore in 2020.
Highlights of the Program:

-Master the stage
-Voice and Accent techniques
-Coaching Techniques
-Next-generation facilitation techniques
-Global content development models – ADDIE Model, Blooms Taxonomy
-Accelerated Learning
-Real-world challenges as a Trainer/Coach
-Personal branding as a Trainer and a coach
Key Benefits:
-Get exposed to Corporate training and Coaching – an end to end cycle – TNA ( Training Need -Analysis), LMS ( Learning Management System), Proposal Writing, Pricing, Delivery, Post Assessment
-Online Content Development
-Master the stage and deliver impactful content
-Booming areas in the Training and Coaching industry – Leadership, Motivational speaking, NLP, Executive Coaching, Design thinking, Outbound Learning, Self Hypnosis, Art Therapy.
Value adds:
-Life and executing Coaching with Real-time clients during the Program
-Selling Techniques for your offerings as a Trainer/Coach
-Public workshops – Dos and Donts
-ILA will create your 1st Youtube Video as a Trainer and a Coach
-One Month Post program support
-International Training exposure in Dubai or Singapore
Courses Accredited to:
-Indian Leadership Academy, the European community of NLP and Skill Central UK.
Certification:
You will receive 4 Certificates after the end of this 2 months program.
-International Trainer Certification
-NLP practitioner and Master Practitioner
-Certified NLP Coach
-You can select one – Certified Motivational Speaker or Emotional Intelligence Coach
Trainers: A set of international Trainers ( Kaushik Mahapatra, Sumaiya Sultana, Deepesh Chhetri,  R. Ravi, Elitsa, and one more trainer)
So HURRY up for this introduction Program and Register now to – Empower your Audiences and Impact Lives.
—